Now Available
Lucid Thoughts....100 New Poems of Masterpoet johnmalcolm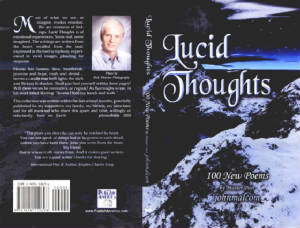 ISBN # 1-4241-1069-6
You can order Lucid Thoughts by telephoning Authors Support Team at 301-695-1707 or go to publishers web site at www.publishamerica.com. book store.
135 pages. 5.5 x 8.5 Softcover
Retail Price is 19.95 but you can purchase now at special price of 16.95.
Lucid Thoughts and Shades of Blue are available at:
You may also order from PayPal at www.paypal.com using your credit card or check, or if you choose you may order ANY of my publications direct by using the Mail Order form found on the Free Book Offer at left or go to my main site at www.lucidpoetry.com
If you order direct or from my website, you will be assured that your order will be processed quickly and that all copies will be autographed as you desire. Shades of Blue may be completely downloaded for only $3.99 by clicking link at bottom of this page.
Special Internet Offer!
Purchase Lucid Thoughts by mail and receive a FREE copy of the coffee table size book Pieces of White. Quanities are limited for this free offer, so act now to order Johnmalcolms Lucid Thoughts book and get Pieces of White, absolutely FREE! EMail me for details!
SECOND RELEASE AND PUBLISHING NOW AVAILABLE FOR
SHADES OF BLUE..................
Download or purchase Shades of Blue...click here!
This book is available on your iPhone, iPad, or iPod touch with iBooks and on your computer with iTunes for $3.99 or you may purchase the bound edition for 9.99 at LuLu. CLICK HERE