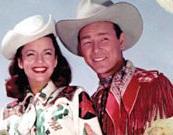 Roy and Dale
Music

Happy Trails to You

Happy trails to you until we meet again.
Some trails are happy ones,
Others are blue.
It's the way you ride the trail that counts,
Here's a happy one for you.

Happy trails to you until we meet again.
Happy trails to you, keep smilin' until then.
Who cares about the clouds when we're together?
Just sing a song and bring the sunny weather.
Happy trails to you 'till we meet again.

Happy trails to you until we meet again.
Happy trails to you, keep smilin' until then.
Who cares about the clouds when we're together?
Just sing a song and bring the sunny weather.
Happy trails to you 'till we meet again.
---
Written and Recorded by Roy Rogers and Dale Evans
Beginning in the late Forties, there were no greater influences on youngsters, boys and girls alike, than was the Cowboys of the time. They were our hero's, chasing the bad guys, standing up for law and order, riding magnificent horses, often singing as they crossed the painted deserts in pursuit of right and justice. Some of the Cowboys of those days actually changed the course of a young persons life, giving them direction and purpose. There were many cowboys back then that we loved, however, there were three that stood head and shoulders above the rest in our adulation. Here is a short tribute to those three Cowboys that we loved best.

Roy Rogers

"The King of the Cowboys"

Born November 5, 1911

Died July 6, 1998

Appeared in 11 films from 1935-1938

Starred in 88 films from 1938-1975

Starred with wife, Dale Evans on T.V. weekly show from 1950-1956

Horse was Trigger

"Happy Trails To You."



Roy Rogers and Trigger



Roy and "Nellybelle"



Bullet & Trigger

(AP) Trigger has a new home - as do numerous items once owned by Western stars Roy Rogers and Dale Evans.

They were put up for auction yesterday at Christie's in New York, with an auctioneer calling it the "most colorful, emotional and sentimental" sale she's experienced in her 20 years with the firm.

The hall was packed, with many of the bidders wearing Western attire and cowboy boots. There were even some tears.

The items were from the now-closed Roy Rogers and Dale Evans Museum in Branson, Mo. They fetched more than expected, including Rogers' stuffed horse Trigger, which went for $266,500. It was bought by a cable company in Omaha, Neb.

Rogers' 1964 Bonneville convertible, encrusted with silver dollars, sold for almost as much: $254,500.

March 25, 2011

Trigger



There were many more famous Cowboy's and shows to come. Gunsmoke, The Rifleman, Bananza, Have Gun Will Travel, The Lone Ranger and Death Valley Days were all extremely popular and watched by millions. Sargent Preston of the Yukon was another off shoot from the famous Cowboy shows as well, but it is generally acknowledged that our three most favored Cowboys were the best to ever ride off into the sunset.

Gunsmoke 1955





Sargent Preston and King 1953-1956

Gene Autry

"America's Favorite Singing Cowboy"

Born September 29, 1907

Died October 2, 1998

Appeared in 93 films

Appered in 91 Episodes of The Gene Autry Show 1950-1955

Starred in 39 Episodes of Death Valley Days

Horse was Champion

Even as "The King of Cowboys" Roy Rogers and "America's Favorite Singing Cowboy" Gene Autry were giants of the movie, recording and T.V. in the forties and fifties, there was another cowboy that took America by storm. He was, by many accounts, the most popular cowboy ever, of any era. He was the man in black who wrote the white stallion, Topper....he was Hopalong Cassidy, simply known as "Hoppy."

Hopalong Cassidy

"Hoppy"

Born June 5, 1985

Died September 12, 1972

Starred in 66 films from 1935-1948

Recorded 95 Radio Shows from 1948-1951

Starred in 52 T.V. Episodes of "Hopalong Cassidy" 1949-1951

Horse was Topper

Wanted: Dead or Alive 1958



Lone Ranger & Tonto 1950



The Rifleman 1958



Paladin, Have Gun Will Travel

Maverick 1959



Zorro ( cowboy?) 1957



Rawhide 1959



1953 Admiral Color Television



Test Pattern




In 1948, television was still in infancy. Every show appearing on T.V. at that time was "live." There were no video tape pre-recordings or delayed programming, so what you saw, when you could see it at all, was happening live.
Although television was first introduced to the general public at the 1939 World's Fair, the outbreak of World War II prevented it from being manufactured on a large scale until after the end of the war. True regular commercial network television programming did not begin in the U.S. until 1948. During that year, legendary conductor Arturo Toscanini made his first of ten TV appearances conducting the NBC Symphony Orchestra, and Texaco Star Theater, starring comedian Milton Berle, became television's first gigantic hit show.
Since inception in the U.S. in 1940, TV commercials have become one of the most effective, persuasive, and popular method of selling products of many sorts, especially consumer goods. During the 1940s and into the 1950s, programs were hosted by single advertisers. This, in turn, gave great creative license to the advertisers over the content of the show. Due to the quiz show scandals in the 1950s, networks shifted to the magazine concept introducing commercial breaks with multiple advertisers. The networks effectively ended advertisers influence over television programming with this introduction.
In later years, as more and more programming was added, T.V. could be seen from morning till night. Morning programming included The Romper Room and Captain Kangeroo. Most day time programming was repeats of the evening before, and many shows were shown several times through out the day. Programming still ended early, usually by midnight. (Of course today, television can be seen 24 hours hours a day, 7 days a week on hundreds of channels.)
It was because of this lack of program availability that inspired one very resourceful Cowboy, "Hoppy", to convince programming officials to play his movies in front of a T.V. camera, thus making Hopalong Cassidy the first show that was not aired live during those earliest years of television. America finally had something other than Howdy Doody to watch in the afternoon and soon Hopalong Cassidy became the biggest attraction on T.V.
Hoppy once went to a hospital where a young boy labored in coma. When Hoppy spoke to him and took his hand, the boy opened his eyes. The story was in all the major newspapaers across the country, so at one of his first public appearences in California, more than 100,000 people showed up to catch a glimpse of him, begging for him to reach out and touch their children. Some reports had Mothers literally throwing their children towards him. To this day, Hoppy is credited with positve influences that gave children of the day a role model for that which was good and just. Perhaps that is why he is considered the most popular Cowboy of all time. His love and message to his fan's were always positive and from his heart.