In July, 1965, two friends and myself decided to go to California. Thurman Pruett, one of my two friends, worked with me at Spartans Department Store in Pontiac, Michigan and the other friend, Shannon McGregor. I was 22. Thurman and Shannon were both 23. I had just purchased a 1965 Mustang in February and while eating lunch at the snackbar at work, Thurman and I decided to go to L.A.!
We left work on our lunch hour, called Shannon, and within a hour or so were on our way to California. I had $33.00, Thurman had $27.00 and Shannon had enough to buy a hamburger, but off we went.
We got to Chicago and got on Route 66, the Mother Highway as it was called and began our trip. Looking back these many decades past, I still recall vividly the wild and exciting time we had experiencing Route 66. We stopped often, taking in the sites, exploring the many attractions along the way and listening to Bob Dylan all the way to California. It is, without a doubt, the best memory I have of the sixties, even as the sixties were chocked full of excitement and once in a lifetime happenings!
So I have added several links to sites that feature Route 66 History, pictures and memories, not only for those of you who traveled that 2448 mile long road from Chicago to Los Angeles, but for those of you who never got the opportunity to partake in the granduer and excitement of Route 66............
Whiting Brothers Gas Station. 1959
Leaning Water Tower, Texas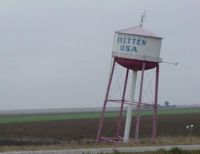 Chain of Rocks Bridge, Mo.